Top Basement Waterproofing Services In Culpeper, VA
basement waterproofing in Culpeper
Industry Leader in Basement Waterproofing in Culpeper, VA
Signs of basement water can be worrying, with causes ranging from quick-fix issues to structural threats. The problem will typically only worsen with time, so immediate action and professional repairs are needed. 

The pros at LUX Foundation Solutions build on 25 years of experience to provide the best basement waterproofing in Culpeper, VA. Call us when you notice an issue, and we'll quickly make yours watertight.
Why Basement Waterproofing Is Needed
Water impacts basements by exploiting weaknesses and causing symptoms that can create serious problems. These issues can threaten the structure and the health and safety of its inhabitants.
Cracking
Walls, floors, and foundations can crack because of pressure caused by rain-soaked soil, leaky plumbing, tree roots, or ineffective gutters and downspouts. Improper construction, excavation, or slope failure are other causes.
Poor Water Management
The gaps where plumbing enters a basement can let water in. Inefficient gutter installation can also lead to water-logged foundations.
Rotten Wood
Increased humidity, springy floors, and moldy/musty smells come from water-rotted wood. Rot warps doors and windows, compromises a home's structural integrity, and can be a health hazard.
Uneven Basement Slab Floors
This is a classic symptom of shifting and settling of a home's foundation, which can lead to dangerous bending of floor beams and joists.
Wet or Damp Crawl Space
Drainage problems, unsatisfactory grading, or exterior structural/environmental issues can cause health threats such as mold or mildew.
Windows and Wells
Debris can clog window wells, forcing water through frames and panes into basements.
The experts at LUX Foundation Solutions have been serving the greater Culpeper community with basement waterproofing services for more than 25 years. Call us to help you shore up your basement against water damage today.
Sources of Wet Basement Problems
What Causes Basement Moisture?
If you've got water in your basement, our team is prepared to help you find out what's causing the problem. These are some of the most common issues.
LUX Foundation has been solving these problems and more for decades. Give us a call to get your drainage situations cleared up as soon as possible.
Basement Waterproofing Solutions in Culpeper, VA
Culpeper's go-to basement waterproofing team is here and ready to provide you with the following services:
We protect your basement's structural integrity to prevent water from getting in.
We reroute water so it drains properly, thereby avoiding mold and mildew.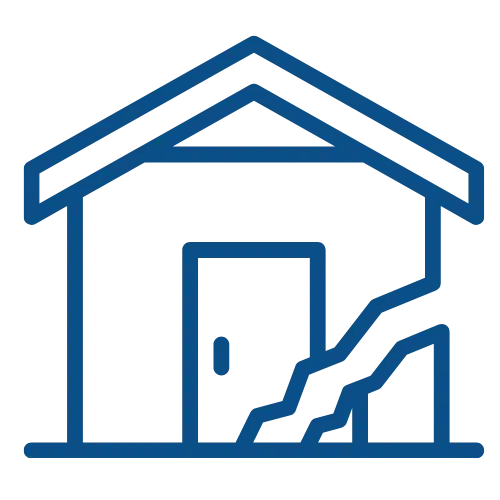 A wet crawl space can lead to mold, mildew, and poor air quality. We dry yours and waterproof it to keep this from happening in the future.
Your Trusted Partner for Basement Waterproofing Services
The LUX Foundation Solutions team is committed to finding the right solution for every client. We have built an honest, reputable company that puts customer satisfaction before profits and personal interests. Here are a few more reasons why you should choose us:
Immediate action is essential at any sign of basement water. Our expert team acts quickly, professionally, and cost-effectively to keep you and your family safe. Contact LUX Foundation Solutions today for more information or to make an appointment.